Sales EquiCoaching Package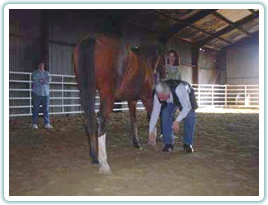 Could your behaviors be limiting your sales potential? Would simply altering your approach make it easier to close deals? Sales EquiCoaching provides the tools and insights you need to become more successful in sales.
Working with our horses will reveal how you approach existing and new clients, help you build trust and respect, and allow you to shed your limiting attitudes and behaviors. You'll test the waters and try new sales approaches in a safe environment.
At the end of your first month, you'll participant in a 360° feedback assessment conducted with 15 raters, including your top customers. We'll discuss your assessment results and establish new goals to produce your greatest return on investment.
Benefits of Sales EquiCoaching:
Discover interesting insights about yourself
Receive feedback from your customers
Try new approaches to increase your sales
Gain greater trust and respect from your customers
Best of all, you'll receive honest, constructive feedback on the effectiveness of your new approaches without jeopardizing a single sale! Our 3-month Sales EquiCoaching Package includes:
Two EquiCoaching sessions per month (each session lasts approximately 2 hours)
360° feedback assessment
Phone and e-mail coaching support between sessions
Contact us for pricing details and schedule availability.
Executive EquiCoaching Package | EquiCoaching for Life Package