"Choices" - Youth Programs
In the world of our young people, there are many opportunities to get off track and make choices that lead to negative consequences in their lives. "Choices" is an energizing experiential program using the power of horses to provide youth the tools and skills to make better decisions in their lives.
L-E-A-D programs offer an exciting and engaging environment that creates opportunities for growth and learning. Our professional staff and horse partners lead participants through focused activities and discussions designed to heighten awareness of their personal responsibility in their lives and learn the effects their choices have on themselves, their family, and others around them.
Participants are provided with a challenging environment to:
Develop a sense of self awareness
Contemplate a more accurate self evaluation
Recognize unhealthy patterns of behavior
Create healthy alternatives
Learn effective problem-solving strategies
Develop a sense of responsibility for their decisions
Recognize the impact of their choices on self, family, peers, society
Learn from others
Participants are encouraged to look for and find healthy and effective problem-solving strategies.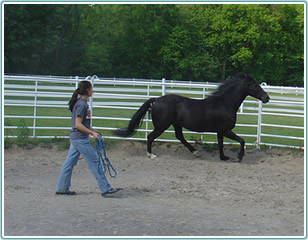 They take away powerful experiences that help them build life skills to be successful in:
Life Choices
Responsibilities
Self-Perception
Communication
Decision–Making
Relationships
Conflict Resolution
Anger Management
Download Choices brochure (pdf file)
Mayors Court uses Choices for Alternative Sentencing (pdf file)
Who should attend:
Young people desiring to make better choices to reach their goals and live up to their full potential! Programs available for ages 13 - 17, and 18-25. NO horse experience is needed. This is not a riding course; no riding is involved and all activities are done on the ground.
Upcoming Workshop Dates:
Give your Young Adult the opportunity to make better life choices! Register today!