Overview of L-E-A-D Workshops: leadership training, team building and personal development workshops.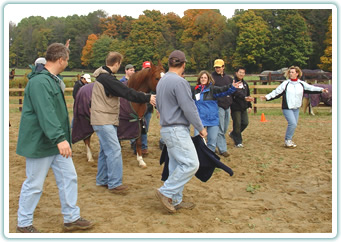 L-E-A-D workshops utilize horses as co-facilitators in the learning process! Horses provide something that no river or ropes course can - immediate feedback to your emotions and behaviors. All activities are conducted on the ground; no riding is done and no horse experience is needed.
Our programs provide a forum for awareness and skill-building that increases the capacity to meet strategic objectives. We create significant learning moments that are applicable and transferable to your professional and personal life.
Whether you are interested in improving your leadership skills, developing a more cohesive team through team building activities, or looking for a personal development workshop L-E-A-D seminars have proven to be very effective in a variety of ways.
Areas of positive impact include:
Individual and group awareness
Behaviors and attitudes
Accountability and responsibility
Relationship development
Verbal and non-verbal communication
Trust and respect
Problem solving
The workshops begin with continental breakfast and group introductions at a beautiful, working farm in Northeastern Ohio. The days are packed with high-energy experiences, facilitated group discussions and introspective thinking. Our results-based activities target the program's objectives. At the end of the workshops, participants design the final activity to meet their specific closure needs.
Based on our experience, we discovered that while the thrill of working with our herd fades, the learning continues long after the session. As a result, we include a follow-up process to optimize and apply the "nuggets of gold" found during the workshop!
A specialized team conducts our workshops:
An Organizational Development and Human Dynamics professional focuses on participant and horse interaction.
An equine professional ensures the safety of our participants and horses while providing valuable insight into horse and herd dynamics.
The horses provide immediate and unbiased feedback.
Our tailored workshops, innovative design, follow-up process and team approach make L-E-A-D unique and extremely effective!