Boundaries Workshop: Horse Assisted Personal Development Workshop
An engaging workshop focusing on you and positively impacting your relationships.
"Boundaries" is an experiential workshop that will impact your life by learning how to set boundaries, the effect of boundaries, how to say "NO" to others and "YES" to yourself, learn to release negative thoughts and develop effective behaviors that support getting what you want in life.
You will be engaged in a challenging, yet fun, environment where you can:
Develop healthy boundaries & learn to maintain them
Find your passion and take hold of your life
Recognize unhealthy patterns of behavior
Create healthy alternatives
Learn effective problem-solving strategies
Release disappointments, pain and grief
Learn to say "no" when you mean no and "yes" when you mean yes
Do something just for YOU!
Share and be supported by others
Enjoy a night away in our woodland hide-a-way
Relax with nature in a beautiful setting
Learn your patterns of relationships
Develop strategies to change your life.
Open up to new possibilities
Increase the happiness in your life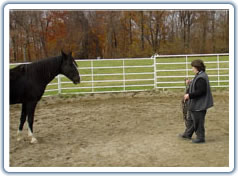 Our professional staff and horse partners lead participants through focused activities and discussions designed to heighten awareness of boundaries, recognize healthy and unhealthy behaviors, and learn the effect boundaries have on their life.
All activities are done outside. Dress for the weather.
Download Brochure
Boundaries Workshop 8:30 a.m. - 4:30 p.m. Upcoming workshop dates: