L-E-A-D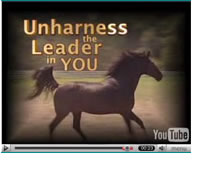 L-E-A-D, a service provided by LeadershipEAD,LLC, is a unique experience utilizing horses in an unconventional approach to leadership, teambuilding, and personal and professional development to "Unharness the Leader Inside".
Learn More - Watch L-E-A-D Video
Leadership: Equine Assisted Development(L-E-A-D) is a powerful experience that unlocks your personal strengths and develops your leadership, team, and communication skills while increasing your awareness and stimulating your creativity. Our horse partners makes LEAD unique and unlike other experiential activities… the horses provide participants a real-life mirror of thoughts, emotions, and physical behaviors that may not be in their consciousness.
Who benefits from the L-E-A-D experience?
Individuals, Business' and Teams who are willing to explore their personal impact and part in relationships and in their life, benefit the most from an L-E-A-D experience. Those who look outside of themselves for answers, generally close off from experiencing a new awareness, and aren't ready, willing or able to allow the exploration at a level to support change.
LEAD offers open enrollment and customized workshops, retreats for teams, and individual EquiCoaching sessions. All focus on increasing awareness of behaviors, emotions and thoughts that stand in the way of reaching your goals while building leadership, team, communication and creative skills.
NO horse experience is needed. No riding is involved. Our horse partners interact with you as a participant and co-facilitator in the activities, which are all done on the ground.