Executive EquiCoaching Package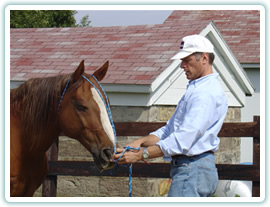 As an executive, you know it's hard to get critical feedback when things are going well… and it's even harder to get it when they're not. But feedback provides critical information to help you grow and become successful as a leader.
With Executive EquiCoaching, you'll receive honest, constructive feedback that allows you to learn more about yourself. You'll also test new behaviors in a safe environment before using them at your organization.
This learn-and-practice process will help you lead with greater confidence and accomplish your goals in shorter time frames.
Executive EquiCoaching addresses:
Effective communication
Dealing with difficult people
Developing a strong team
Interacting with customers confidently
Identifying and testing creative ideas
Clarifying and strengthening your value system
Discovering and trying new behaviors and leadership styles
Our 3-month Executive EquiCoaching Package includes:
Two EquiCoaching sessions per month (each session lasts approximately 2 hours)
Leadership self-assessment
Phone and e-mail coaching support between sessions
Contact us for pricing details and schedule availability.